The use of appropriate ITSM tool is one of the most important factors associated with the successful implementation of IT service management in any organization.
ITSM (or IT Service Management) refers to the activities for the design, support, and control of the IT service life cycle. In contrast to the more traditional technological approach, ITSM recommends focusing on the customer and his needs, on the services provided to the user via information technology. 
To help organizations effectively implement ITSM, many solutions and tools have emerged for service delivery, communication and transparency. ITSM tools are workflow management solutions that include features that are very valuable to IT teams. 
It is important to mention ITAM. IT Asset Management is the process of accounting for IT assets throughout their entire life cycle. IT assets include all  software and hardware ( PC, Servers, Switches, Routers, IP Telephony,…) used in an organization.  
Automation of asset management allows the company to more efficiently use resources and predict needs.
The asset management process creates a single source of reliable information while supporting lifecycle management and making decisions that affect the entire organization.
Selecting an ITSM tool…
According to content writers Harshit Srivastava and Andrew Conrad, about 59% of 500 small business leaders require new business software to respond to matters arising from COVID-19. ITSM tool is one of these software.
Author of IT blog Katie Regan claims: if it is necessary to implement a new ITSM tool, firstly, the needs must be indicated. Then the following steps should be taken to make sure choice is made with complete confidence:
Wants from needs should be distinguished.
A supplier (a vendor), not just a tool, should be considered.
It is important to set a budget.
There must be an understanding of how flexible the tool to business's processes, workflows, and ticketing requirements is. ITSM tool can vary in their absolute ability to customize, how easily they can be customized and how easily customizations will adapt to new system updates. Those ones that can be highly customized may require more regular reconfigurations when the software vendor sends an update.

Therefore, Companies should give proper consideration to the ease of use and/or set up of the ITSM tool that they are willing to implement.
The ITSM software must combine efficiency and simplicity to ensure fast deployment and require minimum resources at reconfiguration phases.

Managers should be aware that the implementation of ITSM involves building business processes in accordance with ITIL – a methodology of managing and continuous improvement of IT-related business processes.

According to a popular blogger Joe the IT Guy, there are some useful tips for selecting a new ITSM tool. Firstly, it is not recommended to start with a list of available tools.
This could be going back to basics. A customer should understand what he needs for delivering optimal IT support.
It is also very important to clearly define what requirements for ITSM tools 'must be' and which are just 'nice to have'. Mandatory requirements should be agreed at first and should not later be changed in favor of any other requirements.

In addition, when determining requirements, an organization should consider its current and future needs for integration with other systems.
An important indicator is the possibility of further support and customization of the system with the help of a simple visual interface.
It is very important to think about the cost.
Not all ITSM tool have the same economic impact. The cost usually consists of:
Licenses, SAAS subscription;
customization;
implementation;
support and service.
It is thus recommended to decide how the tool will be used. Will it be local, will it be SAAS / cloud based? What about using the mobile app? All this is necessary to know in order to make the right choice.
Weaknesses ITSM Tool May Have
Teams in the IT organization use customer support tool as part of their day-to-day workflow. For example, users and managers can track the progress of IT support requests (from when requests are made to when the request ticket is closed) for complete transparency.
Instead using of email channels, ticketing systems are much better suited for centralizing and organizing IT requests to ensure that no problem is left unresolved.

ITSM tool provides enterprises with an internal ticketing system for IT service requests. These systems provide a portal for employees to submit IT problem reports and to create a ticket that is automatically routed to the appropriate support person.

ITSM tool may have some weaknesses. Therefore, in making a choice, it is necessary to pay attention to customer reviews regarding different tools. In their opinion, the most common problems are: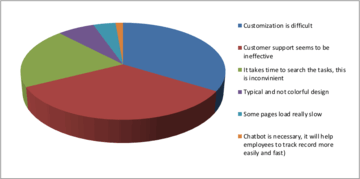 In other words, it is necessary to conduct a thorough research.
It is important that ITSM tool provide core functions that allows to take advantage of integrating new processes or supporting those that have served so far. Based on the above chart, the tool should offer users a set of core features including the following:
Effective reporting system;
User-friendly interface;
Automated functions;
Comprehensive documentation;
Flexibility and customization.
How to Avoid Common Mistakes of ITSM tool
When choosing ITSM software, it is important to analyze common mistakes customers make.

Very often, for some reason, the supplier`s experience is not taken into account. The likelihood of a successful outcome depends largely on the experience of the provider.
In addition, informal sources (user groups, forums, Google) are the best way to learn about the vendor (implementation experience, relationship quality, ability to support, the strengths and weaknesses of the ITSM system, ongoing costs).

Unfortunately, in a competitive environment, vendors are unlikely to fully disclose realistic resource costs (current configuration, training, internal resources) for fear of not being shortlisted for cost reasons. In this case no matter how good a toolbox is, it will fail.

Trying to do too much in the ITSM adoption phase may result in spreading existing resources too thin. It is important to make sure that only necessary tools for achieving targets and increasing business values are implemented. Baby steps and constant small improvements win big, minor changes.

It is important to get support for new ITSM system, but IT project managers often make the mistake of not formulating a clear communication strategy.

To sum up, the ITSM software market is full of great options. Many of them have features that combine high technology and other very attractive features.

As has been noted, when choosing an ITSM tool, the key point is to outline requirements. It is necessary to make sure that processes are up to date and have been recently reviewed. It all starts with people and processes. There must be an understanding of how flexible the tool to business's processes, workflows, and ticketing requirements is.
Why do we recommend Simplydesk?
Among ITSM software available on the market, SimplyDesk has proven its ability to manage incidents, assets, service level agreements while offering a service catalog and clear reports with several key performance indicators.
Not only does Simplydesk comply with ITSM requirements, it is also very user-friendly, quick to set up and ergonomic for everyday use.
Users will appreciate the intuitive interface when submitting and tracking their service and incident requests; Agents will benefit from a clear and effective dashboard to provide great support to the customers; Supervisors will appreciate the relevant statistics on customer satisfaction and the quality of the customer service.

Simplydesk covers also IT Service Providers needs as it integrates features such as service contracts, time tracking and billable interventions management.

All in all, Simplydesk is an all-in-one solution for IT Departments, IT Service Providers and General Services, available in CLOUD-BASED and ON-PREMISE version at an affordable price.